miscfunctions.h File Reference
Header file for
miscfunctions.cpp
.
More...
#include <sstream>
#include <math.h>
#include <string>
#include <errno.h>
#include "invalidcastexception.h"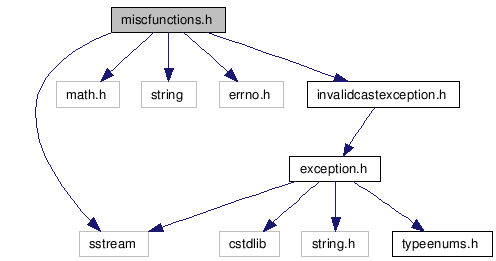 Go to the source code of this file.
---
Detailed Description
Header file for
miscfunctions.cpp
.
Header file specifying constructors, destructor and functions for miscfunctions.cpp.
Author:

Michael Schmidt

Gunnar Jehl
Version:

2.1
License:

Software License Agreement (BSD License)
Definition in file miscfunctions.h.
---
Define Documentation
#define REPLACE_DECIMAL_POINT_AFTER false
#define REPLACE_DECIMAL_POINT_BEFORE true
#define ROUND_TO_DECIMAL_PLACE 16
The number of right-of-comma positions from which is started rounding.
Definition at line 51 of file miscfunctions.h.